Sharon Gomez…Director of High School Inc.
Monica Aguilar…Valley High School Culinary  Arts Instructor 
Robert Flournoy…Sponsor of the High School Inc. Culinary Arts & Hospitality culinary arts      team: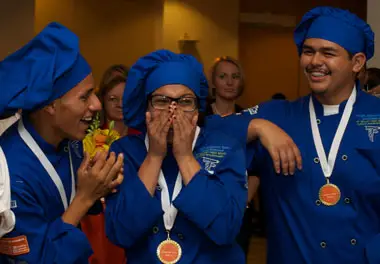 Teens' winning recipe: teamwork, practice and love
Three recent graduates of Valley High School set their sights on culinary careers following national cooking victory.
Article in Full… 
http://www.ocregister.com/articles/school-363521-high-culinary.html
By RON GONZALES and LAUREN FOX / THE ORANGE COUNTY REGISTER
SANTA ANA – Three Valley High alumni will study culinary arts in college, and plan to pursue careers in the restaurant industry after winning a national cooking competition.
Ashley Blanco, Alejandro Hernandez and Ivan Lopez, all 18 and from Santa Ana, studied culinary arts and hospitality in the High School Inc. Academies at Valley High School.
Ivan Lopez, right, grins as he as he tends to the table featuring his team's winning menu, while his teammates, Ashley Blanco, center, and Alejandro "Alex" Hernández, left, share a laugh. In this photo, they competed in a cooking competition at Gonzalez Northgate Markets headquarters in Anaheim, part of the lead-up to a national competition in May.
Just a few weeks before graduation in June, they won the national Cooking Up Change competition in Washington, D.C., sponsored by the nonprofit Healthy Schools Campaign.
The idea was to cook a healthy meal that teens across American would want to eat at their school cafeterias to help defeat obesity and diabetes that can affect lower-income residents in places like Santa Ana and across the country. The student chefs had to take into account such factors as tight school budgets and cooking deadlines.
"Mother Nature gives us these wonderful ingredients to consume," said Hernandez. "It's up to us to see what we can do with them, how we can incorporate them in the kitchen so that we can eat them and become more healthy."
Six teams from across the U.S. took part.
The three members of the winning Valley team received cookware, a $200 gift certificate from an online cooking store and dinner at a fine-dining restaurant. After winning a local competition sponsored by Northgate Gonzalez Markets, each will receive a $1,000 scholarship to attend Orange Coast College and its respected culinary program.
The winning meal included lemon and spinach chicken, Tuscan bean salad, and cinnamon poached pear, and the dishes will be featured for lunch at the Longworth Cafeteria for congressional leaders and their staffs.
Blanco, the team captain, said the competition taught her the importance of goal-setting.  " I learned how people can easily accomplish anything if they set their mind to it," she said.
The Santa Ana Chamber of Commerce, through an agreement with Santa Ana Unified, began its High School Inc. Academies program five years ago in an effort to build a stronger economic and employment base by creating an opportunity for youth to train for careers before they graduate from high school.
The culinary program is one of six at Valley High School that are part of High School Inc. Academies. It's the most popular, with 185 students.
According to Sharon Gomez, who is director of High School Inc. Academies, about half the 2,300 sophomores, juniors and seniors at the school are in an academy. The academies provide potential career paths, and also provide skills that will help students get jobs while they're in college, she said.
"We have 200 volunteers working as the business partners that give their time freely to ensure that the students have linkages to professional employment information, role models, internships, and resources," she said. "The business partners provide in-class or after school training in customer service, market research, medical competitions, culinary instructions and other activities all at no cost."
The victory by the culinary team marked the greatest success the program has achieved so far.
"We never thought our kids were going to win at nationals," she said. "We thought it was great to compete. We also knew it was a very stiff competition."
Local business partners and chefs affiliated with the Culinary Academy worked in the classroom with 10 teams of students from Valley High School preparing for an Orange County competition held in March at the Northgate Gonzalez Markets corporate headquarters and sponsored by Orange County-based Kid Healthy. The teams started practicing in November.
Judges from celebrity television shows, restaurateurs, and community leaders were recruited to select the winning team to go to Washington D.C.
The winners were mentored by Fit Chef Katy Clark, a food and lifestyle coach from The Food Network. She worked with the students in culinary class, after school and on weekends to prepare for the national competition.
Monica Aguilar, culinary arts instructor at Valley High, said that the team arrived in Washington on a Sunday in late May, did some sight-seeing the next morning and then competed all that afternoon, before a reception was held and the winners announced. Each of the coaches had only a few minutes with the teams, and then they had to go it alone.
The other teams, her students said, were nervous and unorganized.
"They set up their equipment, reorganized their rack with their food and got down to business," she said of her Falcon squad.
The most difficult part, said Blanco, was standing before the judges.
"I'm not much of a person who likes to stand up on stages," said Blanco, who, like Hernandez, is interning this summer at Paradise Café in Irvine's Crowne Plaza Hotel. "So it was difficult to stand on a stage and talk to a crowd."
For Lopez, the challenge was the pressure cooker of the competition.
"The pressure of having everyone staring at you while cooking under a time limit in the kitchen was hard," said Lopez, who also works at a restaurant. "The owner of the restaurant kitchen was watching, as well as cameras and news reporters."
Aguilar, of Cypress, graduated from Valley in 1979, and worked in the hospitality industry for 25 years. She's been teaching at her alma mater since 2003.
She said it made a difference that her team was able to work for several months with mentors from business partners. And as a result of support from their sponsoring businesses, they were able to stay a couple of extra days in Washington, visiting such locales as the Lincoln Memorial, the Martin Luther King Jr. Memorial and the House of Representatives, for a congressional briefing on the future of school food where an item from each team's meal was presented.
They also stopped for a meal at the historic Old Ebbitt Grill, where Aguilar asked if her students could meet the chef. The head chef came out and gave them an impromptu 45-minute tour.
"I believe that's what had my students so calm and prepared," she said. "We practice a lot, and mentors came in. I've had the students for three years. We've been learning people and communication skills for three years, so they were very prepared in that area. It was oral presentation skills that put them over the top."
The team members said they learned all about teamwork and communication.
"It was practice, practice," Hernandez said. "Practice makes perfect. Practice makes us win. I love what we prepared. It's the love that will make our meal unique, and hopefully it will continue to be served around the whole nation."