Over 20 volunteers gleaning on 8 acres of zucchini to help stomp out hunger
in Orange County. Volunteers arrived at 8:30 am on Saturday morning ready
to glean for food banks. Almost 3,000 lbs was donated to Second Harvest in
Irvine California. Volunteers came from all over Orange County even as far
as Laguna Niguel and Newport Beach.
Everyone seem to have a great time being in the zucchini field especially the kids
who have never been on a farm before.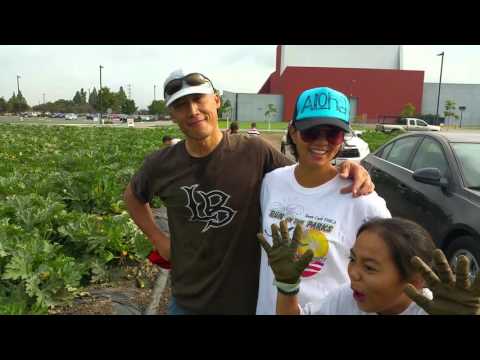 We Are In "The Official Newspaper Of The Roman Catholic Diocese Of Orange"
Photo courtesy of "Loaves and Fishes x10"
BRINGING IN THE HARVEST, ONE MORE TIME
The ancient practice of gleaning helps feed OC needy population
BY LESLIE BERKMAN     OCTOBER 12, 2015
On a warm Saturday morning about 20 men, women and children, wearing wide-brimmed hats and baseball caps to shield them from the sun, crouched in rows of leafy green vines in Irvine's Great Park.They lifted the vines, revealing scattered clusters of succulent green beans that they plucked and tossed into crates they dragged beside them. Starting tentatively, they picked up tempo, spreading into the broad, verdant field.What was going on is described in the biblical law of ancient Israel as gleaning: collecting the leftovers of the harvest that rightfully belong to the needy.Says Leviticus 19:9-10, "When you reap the harvest of your land, do not reap to the very edges of your field or gather the gleanings of your harvest. Do not go over your vineyard a second time or pick up the grapes that have fallen. Leave them for the poor and the alien." In Palestine the poor would pick just behind the farmer's harvesters.Modern gleaning has a different twist. The pickers in the bean field that Saturday were not hungry widows, orphans or aliens. They were people with good jobs—including an ophthalmologist, a pharmacist and a solar panel salesman. They brought children to learn where food comes from and the joy of helping others. Also, volunteers were permitted to take some of the yield of their labor home for their families.Still, their main purpose was to feed the poor with beans left behind by the commercial pickers. In an hour and a half the group harvested 550 pounds of beans that they took to a church in Midway City with large numbers of elderly Vietnamese immigrants on fixed incomes.
The farmer who cultivated the beans, A.G. Kamamura––the former California Secretary of Agriculture––said he had paid his own pickers to harvest the field twice and it would not have been economically practical for him to harvest the same vines a third time. So he called for the gleaners. If it weren't for the volunteer pickers, he says, the leftover beans would have been plowed into the earth.Kamamura says that he has allowed gleaners onto his fields for 30 years. "We grow it for people to eat and not to throw it away, and so we are happy whenever we are able to work with our volunteers and the food banks," he says.Gleanings by volunteers—ranging from church groups to Girl Scouts, Boy Scouts and Navy officer reservists––are arranged by Robert Flournoy. On evenings during the work week, Flournoy, a 50-year-old Tustin resident, earns his living as a custodian at Irvine Valley College. He spends the weekdays and weekends collecting and delivering to food banks and community feeding centers the fruit and vegetables that are gleaned by volunteers or donated by farmers. [/read more]
Presidents Personal Website- http://www.robertflournoy.com